The Fall Would Break His Body, But Not His Spirit.
Date:
Time:
12:00 PM - 1:30 PM
Location:
Hyatt Regency La Jolla
3777 La Jolla Village Drive
San Diego, CA 92122
United States
Annual Executive Luncheon Presented by The Behavioral Health Committee
Chairs: Kira Finkenberg and Mimi Lee
Honorary Chair: Caryl Lees Witte
Moderated by County Supervisor Nathan Fletcher
Special Recognition Award Presented to Linda Janon
Online registration for this event is now closed. To purchase tickets by phone, please call Dana Levin at (858) 637-3013.
"Sixteen years ago, I walked across that bridge with one thought in mind: That I was useless, that I had no value, that I was a burden to everyone who loved me."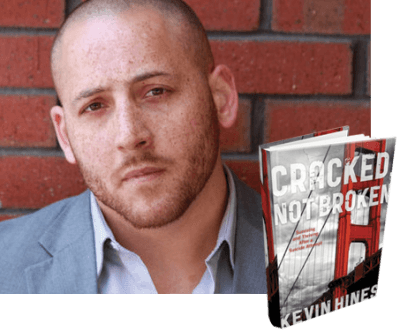 Featuring Kevin Hines
Brain Health Advocate & Storyteller
Kevin Hines is a brain/mental health advocate, award-winning global speaker, bestselling author and documentary filmmaker who reaches audiences with his story of an unlikely survival and his strong will to live. Two years after he was diagnosed with bipolar disorder (19 years of age), he attempted to take his life by jumping from the Golden Gate Bridge. He is one of only thirty-four to survive the fall, and the only one to regain full physical mobility. He is the only Golden Gate Bridge jump survivor who is actively spreading the message of living mentally healthy. The fall would break his body, but not his spirit.
Today, Kevin dedicates his life to saving lives by spreading the message of hope and sharing his art of living mentally well. He is one of the most respected and admired voices of lived experience. Kevin's story is a remarkable testament to the strength of the human spirit and a reminder for us to love the life we have.
---
Registered guests of The Executive Luncheon are invited to join us for a screening of Kevin Hines Suicide: The Ripple Effect documentary on Monday, May 20 at 7:30pm or Tuesday, May 21 at 11:00am.
Thank you to The Lot La Jolla for generously hosting the screenings.
---
The Behavioral Health Committee at Jewish Family Service of San Diego seeks to eliminate the stigma of mental illness through education and outreach. The Committee holds two community events per year to promote awareness on subjects related to behavioral health.
The Behavioral Health Committee of Jewish Family Service
Co-Chairs: Mona Angel Ross & Karen Shein
Founder: Linda Janon
Bonnie Baron, LCSW




Phyllis Bendett




Lisa Goldberg




Meg Goldstein




Nancy Gordon




Gloria Harris, Ph.D.




Marcia Foster Hazan

Cecile Jordan Ed.D.




Barbara Kent, M.S.




Debbie Kramer, LCSW




Mimi Lee, M.S.




Cheryl Levitt




Teddie Lewis




Jenny Meiselman, Ph.D.

Marie G. Raftery




Dara Bliss Schwartz, PsyD




Devorah Shore




Fern Siegel




Karen Foster Silberman
Marie G. Raftery - Chair, JFS Board of Directors
Michael Hopkins - CEO, Jewish Family Service

2019 BHC & Signature Underwriters
Presenting
Charitable Adult Rides & Services, Inc.*
Vivien & Jeffrey Ressler*
Caryl Lees Witte
Champion
Marie G. Raftery & Dr. Robert A. Rubenstein*
Hon. Lynn Schenk & Hugh Friedman, z"l*
Leader
Cohn Family Foundation*


Lois J. Richmond & Family*


Karen & Jeffrey Silberman*

Supporter
Marjorie & Sheldon Derezin*
Susanna & Michael Flaster*


Marcia Foster Hazan & Mark Cammell*


Sylvia & Jaime Liwerant*
Meiselman Family*

Rowling & Associates*
M.T. & James Schaeffer*


Patron
Barbara Bry & Neil Senturia*
Deborah Bucksbaum*
Comfort Keepers | April & Mathew Fink
Kira Finkenberg*
Leonard Hirsch & Barbara Hoffer*

Linda & Edward Janon*
Emily & Chris Jennewein | TimesOfSanDiego.com*
Mimi Lee
Sandy & Arthur Levinson*
Barbara & Howard Milstein*
Lauren & Robert Resnik*
Lisa & Brad Slavin*
Sharon & David Wax*
Rachel & Adam Welland*
Joellyn & Ron Zollman*
*Signature Underwriter **List as of 5/16/19